I was beyond excited to stumble upon a totally unique product in my quest for hydration solutions: electrolyte strips! These little strips are a departure from the usual powdered form that we're all used to, as they're meant to be placed directly in your mouth for a quick and easy hydration boost. As someone who struggles with staying properly hydrated and I'm never sure if I'm absorbing all the electrolytes from drink form, so these strips seemed like a great option to try out. So, in this post, I'll be reviewing Solves Electrolyte Strips and sharing all the benefits and potential drawbacks, based on my personal experience. Get ready to discover a whole new way to get your daily dose of electrolytes!
Note: Before altering your health regimen, please consult with a healthcare professional. This is just a review of my personal experience with the product, not a suggestion of any kind.
About the Company Solves Strips
Before I share my experience with Solves Electrolyte Strips, let me tell you a bit about the company. Upon finding these electrolyte strips, I poked around Solves' store and saw that they also make dissolvable Vitamin D, Melatonin, and a few other types of strips. From my knowledge, these vitamins are not commonly found in strip form. I think this is great and I'm happy that a company is filling this need in the market for those to whom strips might be beneficial.
The Pros and Cons of Electrolyte Strips
Pros
Unique product: they are oral strips that can be placed in the mouth for electrolyte supplementation, I've not found many options like this on the market.
Lightweight and portable: They are easy to carry around in your purse or backpack, and ideal for people who are always on the go. It is important to remember that drinking fluid alongside these necessary, but if you are in a situation such as hiking on a trail where is possible to refill your water bottle this makes a big difference in how much water you will need to bring with you when you leave the house.
Potassium leaning electrolytes: The electrolyte balance of Solves Electrolyte Strips is potassium leaning, meaning that they contain more potassium than sodium. This can be beneficial for when I feel I need slightly more potassium than sodium at the time.
Instant: there is no need for preparation as you can take them instantly without the need to measure and pour like you do with powder/liquid electrolyte solutions.
Don't have to commit to making an entire bottle of electrolytes: sometimes I don't know if I will need a whole bottle of electrolytes, so I can always try single strip to see if it helps me or not before making a whole packet of electrolytes.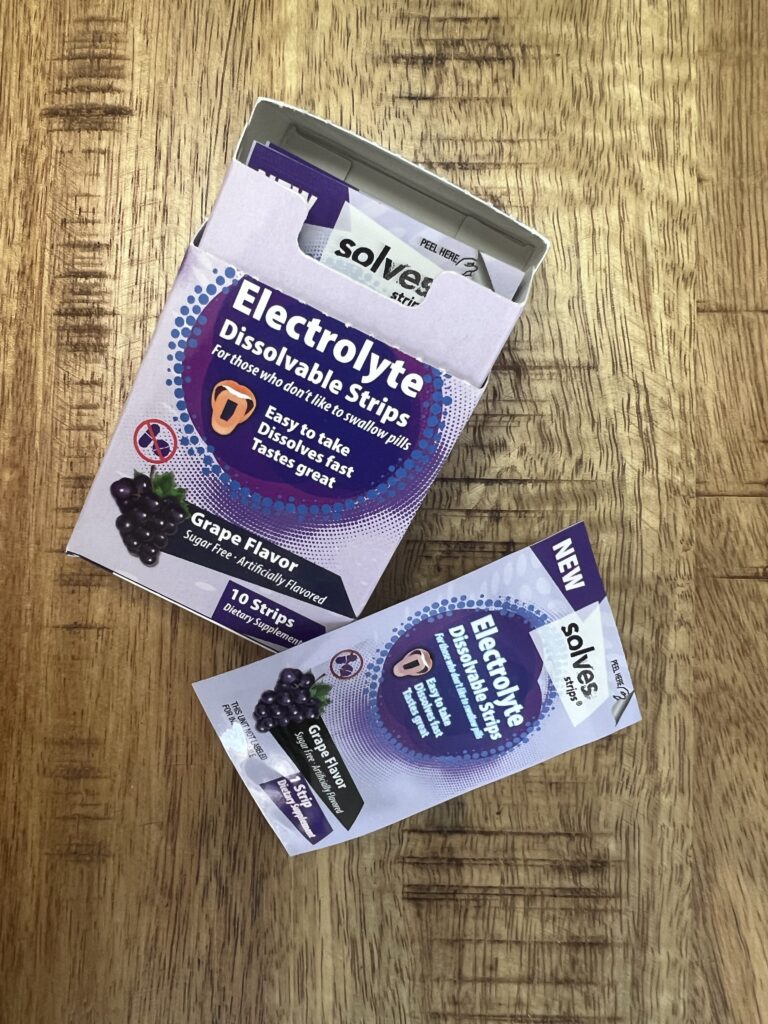 Cons
Only one electrolyte balance is available: which is potassium leaning and may not be suitable for individuals who require a different balance of electrolytes.
Must be consumed with plain water: this is not really a criticism of the product or the company, but it's important to remember for proper use and hydration.
My Experience with Solves Electrolyte Strips – Taste Test!
Solves Electrolyte Strips are thin strips that you peel open, and the packaging feels heavy-duty. I wouldn't mind it getting lost in the bottom of my purse or backpack since it wouldn't break open or get dirty.
How do they taste? To my knowledge, grape is the only flavor available. I try to put it under my tongue and I'm able to get it in my mouth without touching the strip to get it into my mouth. I personally don't mind the taste, while it's no candy, I think it's more than palatable considering it is an electrolyte for hydration. Because of the uniqueness of this product, for anyone who wants to try to stay hydrated, I think it's definitely worth a try.
Are they hydrating? Yes, Solves Electrolyte Strips have been hydrating for me personally, especially in situations where I feel I have already consumed enough plain water. I usually take the strips and follow up with drinking more water. I find them to be very convenient and appreciate having them on hand. However, it's important to note that this is based solely on my personal experience and should not be considered as advice of any kind. It's always best to consult with a healthcare professional before making changes to your health regimen.
Conclusion Final Thoughts on Electrolyte Strips
I think Solves Electrolyte Strips are a great addition to the market. They are lightweight and easy to use, making them ideal for those on the go. While I wish there were more options for different electrolyte balances, I appreciate the fact that it's a viable alternative to traditional electrolyte powders. I was looking for alternative ways to hydrated and replenish my electrolytes, so for me Solves Strips were worth a try.
As with anything, be sure to consult with a healthcare professional before adding to or adjusting routine.